Rise of the Runelords
Magnimar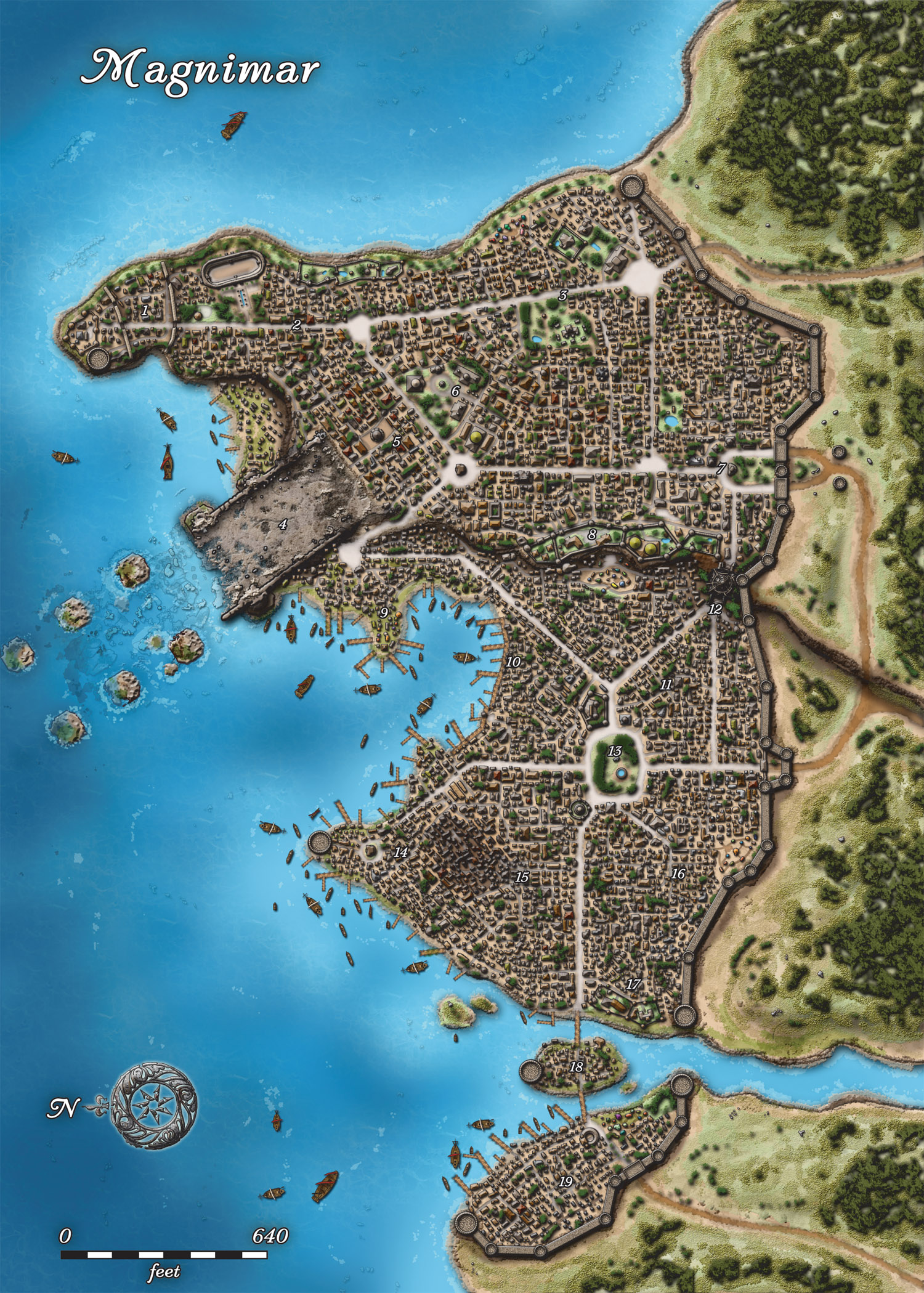 Five things everyone knows about Magnimar
There is a monument to someone or some event on every street corner, in every plaza, and overlooking every shop in this city. If stone could work, there'd be no need for laborers in Magnimar. If you close your eyes and take 10 steps in any direction – you'll come up to a monument. Some are tiny, but most of the very large ones are Thassilonian in origin.
Magnimar is a city-state, and only one of two in all of southern Varisia. This grants the mayor extra titles and prestige. Since there can only be one Lord-High Mayor, the other nobles vie for a seat on the Council of Ushers. There are currently 117 seats, and no doubt a petition is permanently in place to increase their number.
Magnimar breaks itself into 4 areas over which it claims ownership and control: The summit (where the rich people live atop the cliff), the shore (where the money comes from below the cliff), the shadow (crime and poverty-ridden under the ancient Thassilonian bridge called the Irespan) and the holdings (settlements far outside the city's walls, like Sandpoint).
The Court of Magnimar meets in the Pediment Building, which also serves as a prison for the city's most hardened criminals, located in a dungeon deep beneath the building called "the Hells." Most cases are decided by travelling judges, accompanied by one or two axemen. More often than not the judge comes to the accused, not the other way around.
Every bar and tavern along the edges of Seerspring Gardens claim there are long and winding tunnels under the city that lead into and out of every important residence and shop. These are either new passageways for a secret cult, or the dying remnants of the city that was once part of the Irespan
| | |
| --- | --- |
| Nation | Varisia |
| Region | Magnimar |
| Size | Large city |
| Population | 16,428 |
| Demographics | 81% human, 5% halfling, 4% dwarf, 4% elf, 3% gnome, 2% half-elf, 1% half-orc |
| Government | Aristocracy (mayor + council) |
| Alignment | Neutral |
| Population | 16,500 (13,365 humans; 825 halflings; 660 dwarves; 660 elves; 495 gnomes; 330 half-elves; 165 others) |
| Notable NPCs | Haldmeer Grobaras, lord-mayor (N male human aristocrat 9) Verrine Caiteil, spokeswoman of the Council of Ushers (NG female elf aristocrat 5/bard 2) Lord Justice Bayl Argentine, leader of the Justice Court (LN male human aristocrat 6/fighter 3) Remeria Callinova, leader of the Varisian Council (CG female human expert 4/rogue 2) Lady Vammiera Symirkova, mistress of the Gargoyles (NE female human aristocrat 2/rogue 6/sorcerer 4) Princess Sabriyya Kalmeralm, de facto ruler of the Bazaar of Sails (CN female human rogue 12) |
| Modifiers | Corruption +0; Crime +2; Economy +5; Law +2; Lore +5; Society +2; Danger +10 |
| Qualities | academic (Founder's Archive and Museum of Ages), holy site (the Arvensoar), prosperous (Andoran's deposed Rousseau family, offices of the Hook and Hammer traders, and a lavish regional headquarters of the infamous Aspis Corporation), strategic location (Varisian Gulf), tourist attraction (monuments especially the Irespan) |
| Disadvantages | The Shadow, Taxes |
| Market Place | Base Value 12,800 gp; Purchase Limit 75,000 gp; Spellcasting 9th |
At the Temple of Iomede, where brother Pietre (LG male human cleric 5th) will buy any evil item to assure its destruction. The temple has a small arsenal of holy and divine artifacts that it is willing to sell to those of like mind. They also buy holy and divine artifacts as well as accept donations.
At the Founder's Archive and Museum of Ages, Dr. Archisa Aparna (female human Pathfinder ) may be able to locate anything with enough time.
Jorston "Axetongue" Droaeb (male dwarf) at the Serpent's Run has magic arms and armor for sale. Currently, he has a +1 weapon and a +2 weapon for sale.
The Golemworks' Toth Bhreacher (male human wizard) excels in constructs and he sells arcane potions.
The Bazaar of Sails market is overseen by Sabriyya Kalmeralm (female human) and she can sometimes find items of interest to sell as well as buyers willing to buy unwanted items.
Naos is home to the esteemed hunters, explorers, and Pathfinders Sir Canayven Heidmarch (male human) and his wife Sheila Heidmarch (female human) have many items to trade. They currently have a magic stone of alarm for sale that adventurers with only a few quests under their belts might be able to afford.
Magnimar's most esteemed school of wizardry, the Stone of the Seers is run by Master Leis Nivlandis (male half-elf wizard) and focuses on abjuration and divination magics. Beware of low-price arcane scrolls; apprentices wanting ale sometimes sell scrolls they penned and sometimes their efforts result in cursed scrolls. Wands charged with arcane spells are also for sale.